Free Hazard Communication Standard (HCS) Training Online
Free OHSA HazCom Training Online
Take our free OSHA Hazard Communication Standard training online (HazCom) from anywhere. Print your Hazard Communication Standard certificate for free!

Hazard Communication Standard training is required for all employees working with or close to hazardous chemicals in the United States. Our exceptional online Hazard Communication Standard safety course meets the OSHA legal Hazard Communication Standard training requirements. This universal training will need to be supplemented with training on your site-specific chemical hazards.
Take this free GHS HazCom online training to keep you and your family healthy and safe
This is the only truly free Hazard Communication Standard Plan course available. Others say they are free but charge for the OHSA safety certificate.
Learn about GHS warning labels and safety data sheets. This free HCS GHS compliant training for the USA is designed using adult learning principles. It is very easy but results in excellent learning to improve workplace chemical safety.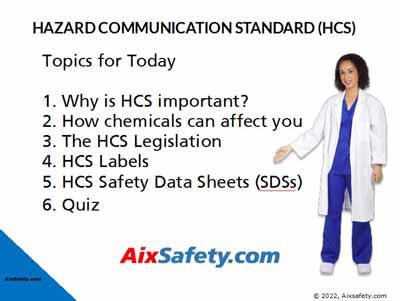 The Hazard Communication Standard online safety training has been updated as of October 2022!!
Please have a look at the Occupational Safety and Health Administration page for more information.
Keep up-to-date with the Breaking News in Health and Safety.
Free Hazard Communication Standard (HCS) Online Training Instructions
We don't keep a copy of your certificate. You need to print your free Hazard Communication Standard certificate (Record of Training) from your own computer or take a picture of it.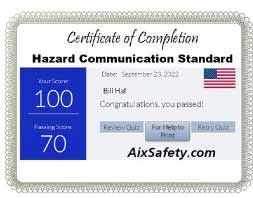 If you do the free online OSHA HCS training on a phone or tablet take a picture of the certificate. Use the picture as your record of training. You may also do this on a computer (use the snipping tool on Windows computers) if you don't have a printer.
Turn on your speakers as audio is a big portion of the training.

Make sure your mobile device is NOT in silent mode.

Make sure you enter today's date and your name just before you start the free online HCS training quiz.
Please let me know how you enjoyed the course or if you ran into any problems.

If you would like to buy this Hazard Communication Standard online training for your company or require custom training send me an email at info@aixsafety.com
Please, please donate any amount to keep this HCS eLearning site open and keep everyone safe and healthy.