Free COVID-19 Training For You and Your Company
Free COVID-19 Training and Free Test and Certificate
Free COVID-19 online training, and print your own completion certificate for free!
Updated August 2022!
Protect your health and safety by taking the free COVID-19 training online.
Make sure you and your employees know the basics. Keep you and your employees healthy and reduce absenteeism with this free COVID-19 training for employees. Add your own policies and procedures for one stop training.
We can customize this training for your company by including your specific procedures and logos. Let us know how we can help.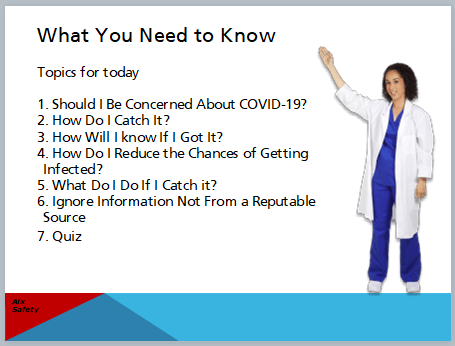 This training is not intended for health care workers, police, paramedics or other workers that deal directly with people that are infected. It is general awareness training.
This COVID-19 training is designed using adult learning principles so that it is very easy to do but results in excellent learning to improve safety in your workplace and at home.
We can customize this free COVID-19 training for different work places such as construction sites, retail stores, open/modern office spaces, you name it. Send us an email -info@aixsafety.com
Free COVID-19 training!
You need to be able to print your free certificate from your own computer.
If you do the training on a phone/ tablet you can take a picture of the screen (screenshot) and use that as your record of training. You can also do this on a computer (or use the snipping tool on Windows Computers) if you don't have a printer.
We don't keep copies of your free COVID-19 training certificate.
Turn on your speakers as audio is a big portion of the training.
The program works on tablets and phones.
Make sure you enter today's date and your name just before you start the quiz.
Launch the Free COVID-19 training program by clicking on the button below.
If you liked the free training please donate to keep this site open